KJ Wren Contracting: Rochester's Premier Fencing Company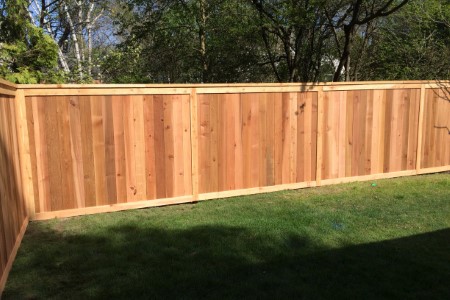 Your Rochester area home would be incomplete without a fence. So, you need to call on a dependable fence company to ensure that your home always sports a quality fence. For the most dependable company in the area, look to none other than KJ Wren Contracting.
You can count on us to meet all of your fencing needs, no matter what kind of fence you have or want to have for your property. After all, we are experts at working on a variety of fencing types, including the following:
Plus many others. Whether you need to have your current fence replaced or a brand-new fence installed, you need to look to none other than us. We'll make sure your Rochester area home sports the best fence based on your tastes and needs thanks to the many great products and services we offer!
Increased Curb Appeal with Wood Fencing
If you think you'll ever put your Rochester home on the market, you'll want to take some early steps to get your home prepared to get sold. This means you'll want to allow your home to boast two key features: curb appeal and, of course, resale value.
The good news is you can kill both of those birds with one stone if you opt to get a wood fence. Because of wood fencing's natural beauty and durability, your home will enjoy plenty of curb appeal and value that will pay off when it comes time to sell. Call for our wooden fence services today if you're ready to enjoy these great benefits.
Vinyl Fencing: An All-Around Great Choice for Your Rochester Home
Even if you're not thinking of putting your home on the market, you should be thinking about what fencing is best for your Rochester home. If you're trying to find an option that offers a little bit of everything, then you need to look into vinyl fencing for all the great qualities it has:
Longevity
Affordability
Minimal maintenance
Beauty
Does vinyl fencing sound like the best choice for you? Then you need to contact our fence company today. We offer top-quality vinyl fencing products and installation services that will ensure you'll be enjoying all of these qualities to the fullest in no time.
Call for Our Quality Fence Repairs
Even the highest-quality fence is bound to suffer from wear and damages over time. This wear can start out small, but at some point down the road, it can snowball into some major issues. These issues can affect your fence's appearance and even lifespan.
If your Rochester home's fence is in this kind of condition, you need to call us today. With a repair, we'll get your fence looking and functioning like brand new once more in no time. This service will preserve your fence's well-being and lifespan, helping to save you money and hassle through the years.
3 Reasons To Hire A Pro For Your Fence Repair Needs
If you're like most homeowners, the idea of saving money is always appealing, and when it comes to fence repair, a DIY solution is almost always going to cost you more than just hiring a contractor. […]
Real Wood or Vinyl: Which White Picket Fence Option Is Better?
A white picket fence: Is there anything more ideally American? It's the unofficial symbol of having made it in this world, and simply having one can add that much more enjoyment to your life. If you' […]
Reviews & Testimonials on KJ Wren Contracting
There are currently no reviews or testimonials, check back soon!