Your Fence Company in Troy, MI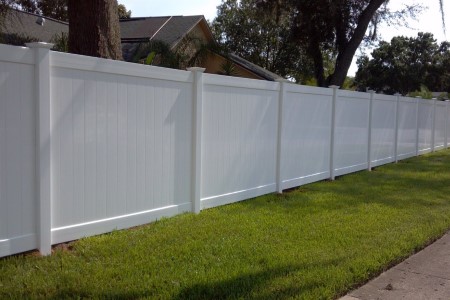 A quality fence from a professional fence company can benefit your Troy home or business in a number of great ways. The most obvious way it can do so is by providing security and privacy. However, fencing can also offer some other great benefits such as increased curb appeal and even property value.
If your current fence is low quality or simply worn out, don't hesitate: Call the dependable fence company, KJ Wren Contracting. We can help you find the perfect fence for your tastes and needs thanks to the great variety we offer:
Privacy
Wood
Chain link
Vinyl
Aluminum
On top of providing a new fence for your home or business in the Troy area, we can also get your existing fence back in order with a repair. Don't go another day without fully enjoying the benefits that a fence can offer. Instead, give us a call for any of our great services.
Add Beauty to Your Troy Home with a Wood Fence
Are you looking for ways to make your home stand out and elicit "oohs" and "ahs" from neighbors and passers-by? Then you can't go wrong with a wood fence. Coming in a variety of stunning natural colors, wood fencing can add a timeless beauty to any home.
Of course, looks aren't everything, as they say, and the saying applies to homes as well as people. In that regard, a wood fence will still prove to be a great choice for your Troy home since it is not only beautiful but also long-lasting and valuable. These qualities make wood fencing a great investment.
Get Low-Maintenance Vinyl Fencing from Our Team
Maybe you're not so concerned about appearances. Maybe, instead, you're shopping for a fencing option that offers a variety of all-around great benefits. If you are, then you need to look to vinyl fencing because of all the great qualities if can offer:
Durability (about five times stronger than wood)
Affordability
Minimal maintenance
Large design variety
If you're ready to enjoy all of these great qualities, then you need to call our Troy fencing company today. We'll provide a quality vinyl fencing product and installation that will allow you to revel in these benefits for many years to come.
Quality Fence Repairs in Troy
Even the most durable fence is bound to experience damages through the years. Every day, nature will batter it with rain, sun, and all other rough elements. Over time, this daily battering will wear your fence down, leading to breakages.
If your Troy home's fence has suffered from this kind of wear, you need to give us a call for a fence repair. With a repair, we are able to undo much of the damage that your fence will have suffered, getting it looking and functioning its best once more.
3 Reasons To Hire A Pro For Your Fence Repair Needs
If you're like most homeowners, the idea of saving money is always appealing, and when it comes to fence repair, a DIY solution is almost always going to cost you more than just hiring a contractor. […]
Real Wood or Vinyl: Which White Picket Fence Option Is Better?
A white picket fence: Is there anything more ideally American? It's the unofficial symbol of having made it in this world, and simply having one can add that much more enjoyment to your life. If you' […]
Reviews & Testimonials on KJ Wren Contracting
There are currently no reviews or testimonials, check back soon!