Your Fence Company in Ferndale, MI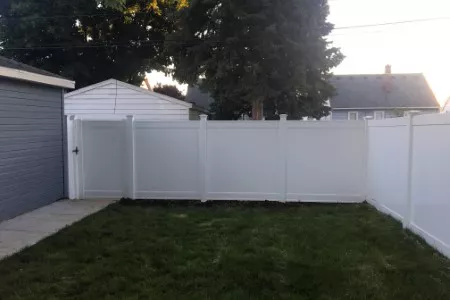 Your Ferndale area home would be incomplete without a fence, so you need to take steps to either get or maintain this necessary installation. If you're looking for a fence company to help you do that, you need to look to none other than KJ Wren Contracting.
Our fence pros have many years of experience and access to top-quality materials, so you can count on us to provide excellent fence services, no matter what kind you're looking for. We have the know-how to work on most any kind of fence:
Wood
Private
Chain link
Aluminum
Vinyl
Whether you're looking to get your old fence repaired or a new one installed, you can count on our Ferndale professionals to get the work done. Call us today to schedule an appointment with our fence pros, and in no time, you can enjoy the benefits of all the great services we provide.
Quality Wood Fencing for Your Ferndale Home
Like any large exterior installation, your fencing has two responsibilities: to be both functional and beautiful. The beauty aspect is important since a beautiful exterior will help to increase your Ferndale home's resale value and curb appeal.
If you're in the market for a simply stunning fencing option, you need to consider a wood fence. Wood comes in a variety of stunning natural colors that can be accentuated with stains, so this option will help to make your home stand out in the best possible way.
Enjoy All the Great Benefits of a Vinyl Fence
While beauty is certainly an important quality to look for in your new fence, it is not the only quality you should prioritize. Your fence can and SHOULD provide a number of other great benefits that you'll be able to enjoy through the years. For this purpose, you can't beat vinyl fencing thanks to its many awesome qualities:
Longevity
Durability
Low-maintenance requirements
Variety of designs
If you're in the market for an all-around great (and, yes, beautiful) fencing option for your Ferndale home, you can't go wrong with vinyl. Call our dependable company today if you're ready to enjoy all of the great qualities that a vinyl fence can provide.
Your Ferndale Fence Repair Company
So, you've finally settled on the fence of your dreams. You've paid to have it put in, and you've gotten many years of enjoyment out of it . . . Unfortunately, during that time, your fencing will also face all manners of wear and tear from its exposure to the elements.
There is good news, though: If your fence has gotten into bad condition after all this time, you can always call our Ferndale pros for a fence repair. We'll undo years of wear and tear and get your fence looking beautiful and brand new in no time so that you can continue to enjoy it for a long time to come.
3 Reasons To Hire A Pro For Your Fence Repair Needs
If you're like most homeowners, the idea of saving money is always appealing, and when it comes to fence repair, a DIY solution is almost always going to cost you more than just hiring a contractor. […]
Real Wood or Vinyl: Which White Picket Fence Option Is Better?
A white picket fence: Is there anything more ideally American? It's the unofficial symbol of having made it in this world, and simply having one can add that much more enjoyment to your life. If you' […]
Reviews & Testimonials on KJ Wren Contracting
There are currently no reviews or testimonials, check back soon!