Royal Oak's Leader in Fencing Services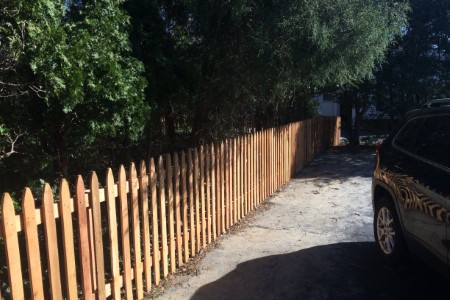 Are you in the market to get a new fence for your Royal Oak home or business? If you are, call on the experienced fence company, KJ Wren Contracting. Our team can help you get the right fence for your property -- no matter what kind of fence you're looking for:
Wood
Aluminum
Chain link
Many more
We make it a point to employ only experienced and dedicated experts, so you can count on our team to have what it takes to provide a high-quality fence installation. We use only high-quality materials and an excellent work ethic to ensure you get the best results possible.
In addition to providing quality fencing installations, our Royal Oak experts also provide fence repairs. With our experience, expertise, and dedication to quality work, we can promise to be able to fix most damages that your fencing might have suffered through the years.
A Quality Wood Fence for Your Royal Oak Home
If you're in the market for an option that's both durable and stunning, you can't go wrong with a wood fence. Whether you opt to paint it or show off its naturally beautiful colors, a wood fence will provide a great look for your home, no matter what look you're shooting for.
With regular upkeep, your wood fence can even prove to be a durable and long-lasting option. If you're looking to avoid the headache and expense of getting fence repairs and even replacements, you'll find a wood fence to be the best option for you.
Get the Ideal Look with a Vinyl Fence
Your home should provide the functionality you want, of course. Just as well, it should also sport the look you want. To get this look, you need to take care with every installation that makes up your home, including your fence. When it comes to that installation, you'll be able to easily find the look you want with vinyl fencing.
After all, vinyl fencing comes in a variety of different colors and designs. With this variety of options, you'll be able to get the best fence to complement your Royal Oak home. Of course, looks aren't everything you should look for in any installation. Fortunately, when it comes to vinyl, you can enjoy a beautiful fence as well as a number of other great qualities:
Excellent durability
Minimal maintenance requirements
Longevity
Dependable Fence Repairs in Royal Oak
You might take meticulous care of your fencing, checking up on it regularly, doing a little work here and there when it needs it. Still, though, like anything, your fencing is bound to suffer from significant wear and damages over time, leading to breakages that your regular maintenance can't rectify.
Of course, these inevitable damages don't mean your fence will inevitably need to be thrown out. After all, our Royal Oak experts offer fence repairs that will get yours back into shape in no time. With this service, we can guarantee that your fence will look and function like brand new, no matter what kind of damage it might have suffered.
Recent Fence Projects in Royal Oak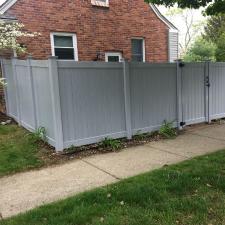 Royal Oak Grey PVC Privacy Fence
Here we installed a 6' tall PVC greystone fence along the sidewalk to give full privacy and security from the street. You can depend on your local fence company, KJ Wren Contracting to provide th […]
3 Reasons To Hire A Pro For Your Fence Repair Needs
If you're like most homeowners, the idea of saving money is always appealing, and when it comes to fence repair, a DIY solution is almost always going to cost you more than just hiring a contractor. […]
Real Wood or Vinyl: Which White Picket Fence Option Is Better?
A white picket fence: Is there anything more ideally American? It's the unofficial symbol of having made it in this world, and simply having one can add that much more enjoyment to your life. If you' […]
Reviews & Testimonials on KJ Wren Contracting
There are currently no reviews or testimonials, check back soon!