Real Wood or Vinyl: Which White Picket Fence Option Is Better?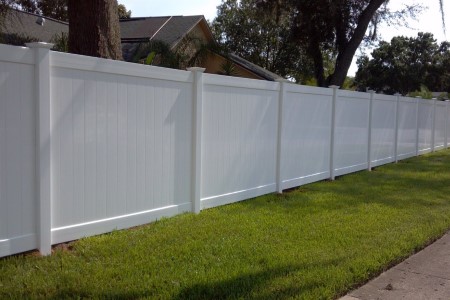 A white picket fence: Is there anything more ideally American? It's the unofficial symbol of having made it in this world, and simply having one can add that much more enjoyment to your life. If you're at the point where you can get one, you need to stop and ask yourself: Which white picket fence is best for me?
You heard right: There is more than one picket fence option out there. After all, you have the choice between a natural wood fence or a vinyl one. This decision may raise another question for you: Which should you get?
That is an answer that only you can provide. Of course, to come to that decision, you'll need to know the key draws and drawbacks of either fence option. To know which picket fencing option is best for your Rochester Home, just keep reading, and we'll tell you about the major features:
Natural Wood: Valuable and Stunning
If you're positive that you'll be selling your home at some point in the future, then you need to go ahead and take every step you can to make sure your home will be ready for the market. For this purpose, you may find a natural wood white picket fence to be the decision for you. After all, it offers some great features:
Greatly increased property value
Better curb appeal
An array of painting and staining options (outside of just white)
Before putting down the money for a wood fence, you do need to realize that you'll have to keep putting down money for it through the years to keep it looking great. After all, wood fencing requires regular upkeep -- which you might not be too keen to keep paying for just for some other payoff years down the road. Otherwise, this may be the perfect option for you!
Vinyl: Low Maintenance and Long-Lasting
If you're the kind of homeowner who'd rather set it and forget it when it comes to your home's installations, then a vinyl fence might be the best white picket option for you. After all, vinyl sports a ton of great features that will allow you to enjoy your fencing with minimal upkeep:
Easy cleaning: simply pressure wash or spot clean
No wood rot to deal with
Long-lasting paint job
Of course, you can't overlook the fact that many potential buyers may not want to pay top dollar for a vinyl picket fence instead of a wood one. However, if you don't mind taking that financial hit down the road (should you ever decide to sell), you'll find a lot to love in a vinyl fence thanks to its low maintenance needs.
Call Your Rochester Hills Fence Company for Your Wood or Vinyl Fence
Whether you decide to get a wood or vinyl white picket fence, one thing is certain: You'll want to leave its installation to an experienced fence company. In the Rochester Hills area, that company should be KJ Wren Contracting. We'll provide top-quality work to help you fully enjoy the benefits that either fencing option offers.