Fence Repairs In Rochester Hills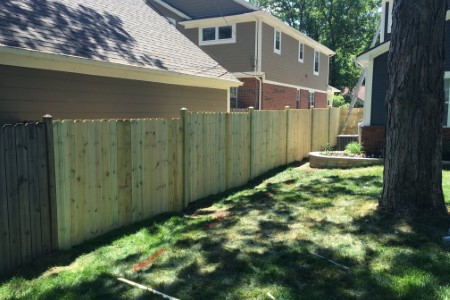 Even the most durable fence can't withstand everything that Mother Nature will throw at it at all times. Fortunately, you can have this wear undone if you call our fence company for a fence repair. We'll undo any kind of damage that it might be suffering:
Rotted or rusted areas
Fading from the sun
General wear
Sudden damages
If the fencing around your Rochester Hills home is suffering from these or any other issues, call us for a fence repair. We have the experience and the resources to provide nothing short of excellent results so that your fence can look and function like brand new once more.
Enjoy a Like-New Fence Again in No Time
Your fencing is a valuable and important investment, and you'll need to take every measure you can to ensure it enjoys the longest possible lifespan. Unfortunately, as the above-mentioned wear compounds through the years, its well-being and life expectancy will be greatly reduced -- meaning you'll soon have to fork over the money for a replacement.
Fortunately, a great measure to take in your endeavor to prolong your fencing's lifespan is to call for our fence repairs when you need them. If we can catch the damages early on, we'll be able to prevent them from worsening and keep your fence in quality condition for years to come.
We'll Undo All Kinds of Wear and Damage
Your fence is susceptible to a variety of issues that could damage it. These issues can range from minor to fairly large and significant. No matter the type or size of the damage at hand, you can count on us to get it handled dependably with a quality fence repair. Call us today if your fence is in need of any work to any extent.
Maintaining All Fences - Even If We Didn't Install It
When we say we mend broken fences, we really mean it. While other companies are only willing to offer maintenance services for the fences they've installed, KJ Wren Contracting can do it all. As long as your fence isn't under warranty from another company, we'll be glad to take care of your repairs. This includes critical post replacement service. This is the year to make your fence look new again, and now is the time to schedule that fence repair. Contact the Rochester Hills company that does fence repairs on all customer's fences, regardless of who did the install.
3 Reasons To Hire A Pro For Your Fence Repair Needs
If you're like most homeowners, the idea of saving money is always appealing, and when it comes to fence repair, a DIY solution is almost always going to cost you more than just hiring a contractor. […]
Real Wood or Vinyl: Which White Picket Fence Option Is Better?
A white picket fence: Is there anything more ideally American? It's the unofficial symbol of having made it in this world, and simply having one can add that much more enjoyment to your life. If you' […]