Are You Looking For The Best Fence Company in Clawson, MI?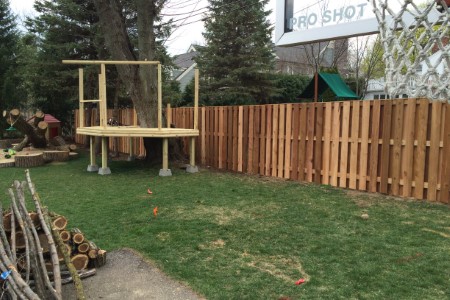 Are you looking for a dependable Clawson fence company? Then you need to look to none other than KJ Wren Contracting. We can meet all of your fencing needs (installation, repair, or all else), no matter what kind of fence you may have:
Wood
Aluminum
Vinyl
Privacy
Chain link
Each fencing option offers its own draws and drawbacks depending on your tastes and needs. So, thanks to the wide variety of products that we offer, you can be sure to get the best fence for your home or business.
Of course, you don't have to wait until you need to get a new fence installed before you call our Clawson team. You can also call us when your existing fence needs work. With a professional repair, we'll get your damaged fencing back in shape, ensuring that it looks and functions just like it did the day it was first installed.
Quality Wood Fencing for your Clawson Home
Because of its conspicuous nature, your fencing should be more than just functional: It should also be beautiful. That might seem like a tall order, and you might even feel a bit downhearted at the prospect of ever achieving this balance. However, you can have a fence that's beautiful AND functional if you opt for wood.
Naturally beautiful
Durable
Valuable
Long-lasting
You'll enjoy all of these qualities and more if you get a wood fence for your Clawson home or business. In fact, you'll even enjoy some more great benefits of a wood fence should you ever opt to sell your home thanks to the increased curb appeal and property value that this installation provides.
Minimize Maintenance thanks to Vinyl Fencing
Vinyl fencing is a great option for a number of reasons. The most instantly recognizable of these reasons is that vinyl is beautiful, as it comes in a variety of different colors and styles. Of course, vinyl also offers another benefit that you'll definitely enjoy throughout the years: minimal maintenance needs.
Unlike wood or metal fences, vinyl won't suffer from exposure to the elements throughout the years. So, with this option, you'll save money on repairs and replacements through the years. Looking for a low-maintenance fence for your Clawson home? Then look no further than vinyl!
Fence Repairs in the Clawson Area
A good quality fence should boast durability and longevity. Of course, that doesn't mean that such a fence is impervious to damages that can develop over time. So, even if you have the highest-quality fence in the world, you can fully expect wear and breakages to develop through the years.
When this wear has affected your Clawson home's fence to the point that it doesn't look or function as you need it to anymore, you need to give us a call. With a fence repair, we'll get your battered, weather-worn fence back in like-new condition so that you can enjoy it for many more years to come.
3 Reasons To Hire A Pro For Your Fence Repair Needs
If you're like most homeowners, the idea of saving money is always appealing, and when it comes to fence repair, a DIY solution is almost always going to cost you more than just hiring a contractor. […]
Real Wood or Vinyl: Which White Picket Fence Option Is Better?
A white picket fence: Is there anything more ideally American? It's the unofficial symbol of having made it in this world, and simply having one can add that much more enjoyment to your life. If you' […]
Reviews & Testimonials on KJ Wren Contracting
There are currently no reviews or testimonials, check back soon!