Madison Heights' Leader in Fencing Services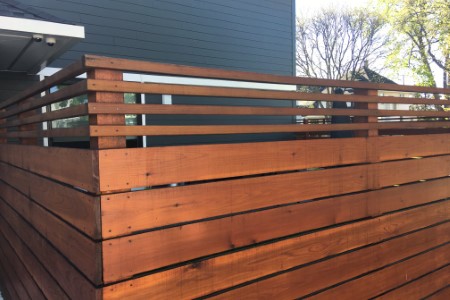 You don't need to settle for less when it comes to your Madison Heights home's fencing, and to get the best, you need to call the dependable fence company, KJ Wren Contracting. We'll help you always enjoy quality fencing thanks to the many great services we offer:
New fence installations
Fence repairs
Gate installations and repairs
Whether your home sports (or should sport) a wood, vinyl, or aluminum fence or just about any other kind of fence, you need to make us your first and last choice for your fencing needs. We make it our mission to provide quality work at a competitive price, allowing a beautiful, high-quality fence to be attainable for all local residents and homeowners.
Our Madison Heights professionals provide the same quality of work when it comes to your fence repairs. Over time, your fencing is bound to suffer from wear and tear you can't avoid. When your fence winds up looking and functioning poorly because of this, just give us a call, and we'll get it back in shape in no time.
Quality Wood Fencing Services in Madison Heights
Your fence's primary job is to provide privacy and added protection for your Madison Heights home. Of course, just because it is chiefly a functional installation doesn't mean it can't also be a beautiful one. Indeed, your fencing can be used to up your home's curb appeal and even property value.
A great option for adding a beautiful touch to your home is a wood fence. Coming in a variety of stunning natural colors, a wood fence can complement any home and home design. If you're ready to enjoy the aesthetic qualities that a wood fence can provide, give our fencing experts a call.
Call Us to Enjoy the Benefits that Vinyl Fencing Offers
Maybe you're not as concerned about the look of your fence so much as you are about the functionality. If that's the case, why not look into a vinyl fence? While proving to be a beautiful fencing option in its own right, a vinyl fence will also provide some great functional benefit:
It is durable and will stand up to many weather conditions
It is long-lasting, meaning you won't have to replace it anytime soon
It requires little maintenance and cleaning
Do all of these features sound great to you? Then you need to get a hold of our fence professionals today. We'll provide a high-quality vinyl fence that will provide all the great benefits you're looking for many years to come.
Fencing Repairs You Can Depend On
While a fence is made to withstand damage from many elements and other destructive things, no fence is completely immune to wear and tear. Should your fence suffer enough wear and tear, it might begin to look shoddy and function just the same.
If your Madison Heights fence is in less than its best condition, you need to give us a call pronto. We'll get your fence looking and functioning just like brand new in little time at all thanks to our top-rated fence repair services.
3 Reasons To Hire A Pro For Your Fence Repair Needs
If you're like most homeowners, the idea of saving money is always appealing, and when it comes to fence repair, a DIY solution is almost always going to cost you more than just hiring a contractor. […]
Real Wood or Vinyl: Which White Picket Fence Option Is Better?
A white picket fence: Is there anything more ideally American? It's the unofficial symbol of having made it in this world, and simply having one can add that much more enjoyment to your life. If you' […]
Reviews & Testimonials on KJ Wren Contracting
There are currently no reviews or testimonials, check back soon!