Are You Looking For The Best Fence Company in Rochester Hills, MI?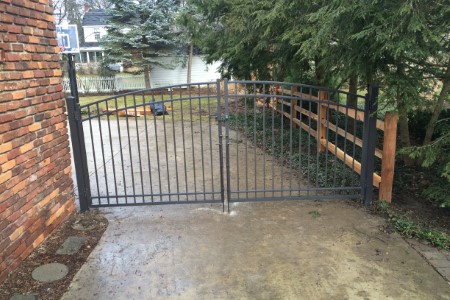 The quality of your fencing will have a pretty significant impact on the overall quality of your Rochester Hills area home. To be sure you enjoy the highest-quality fencing, you need to have yours provided and worked on by the local fence company, KJ Wren Contracting.
Our team of experts have many years of experience in the industry, so you can count on us to provide the work you need to keep your fencing looking great and standing strong. No matter what kind of fencing your home might have, we can address its needs:
Wood
Aluminum
Vinyl
And more!
Whether you need a new fence installed or an old one repaired, the only name in quality should be KJ Wren Contracting. We'll make sure your Rochester Hills home or business maintains a beautiful, durable fence thanks to the many great services we offer.
Quality Wooden Fencing in Rochester Hills
Are you stuck trying to find a fencing option that will meet your need for beauty and durability? If so, you should consider getting a wood fence. Wood comes in many stunning natural shades, and you can hardly do better when appearances are a concern.
As for durability, a wooden fence can hold up dependably against many kinds of general weather conditions. If wooden fencing sounds like the right choice for your Rochester Hills area home, then you need to give us a call today.
Your Rochester Hills Vinyl Fencing Experts
Your fence shouldn't meet just one or two of your needs. It should meet most every need you might want out of your fence. This might seem like a tall order to make, but rest assured that you can enjoy this if you opt to get a vinyl fence.
Excellent longevity
Great durability
Ease of maintenance
Many design choices
All of these qualities and more can be yours to enjoy if you opt for vinyl fencing. Should you decide that vinyl is the way to go for your Rochester Hills home, reach out to our experts. We provide high-quality vinyl fencing products and installation services that will help you enjoy these benefits to the fullest.
Call Us When Your Fence Needs a Repair
Even the highest-quality, most durable fence is going to suffer from general wear and unexpected breakages. The only question is of when that will happen. While you may not know exactly when these damages will strike, you can easily figure out the solution: KJ Wren Contracting.
After all, we offer fencing repair services to address any fencing damage you might be faced with. Our dedicated Rochester Hills fence pros will get any problems resolved, guaranteed, ensuring that your fence will look and function like brand new for many more months and even years to come.
3 Reasons To Hire A Pro For Your Fence Repair Needs
If you're like most homeowners, the idea of saving money is always appealing, and when it comes to fence repair, a DIY solution is almost always going to cost you more than just hiring a contractor. […]
Real Wood or Vinyl: Which White Picket Fence Option Is Better?
A white picket fence: Is there anything more ideally American? It's the unofficial symbol of having made it in this world, and simply having one can add that much more enjoyment to your life. If you' […]
Reviews & Testimonials on KJ Wren Contracting
There are currently no reviews or testimonials, check back soon!