Dumpster Gates In Rochester Hills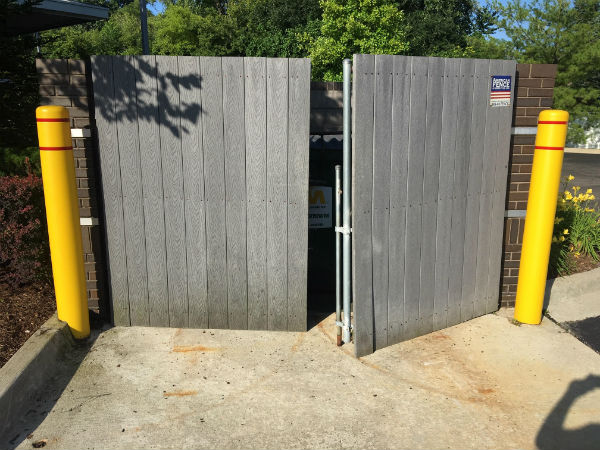 KJ Wren Contracting is the name to depend on for high-quality commercial dumpster gates in Rochester Hills, Clawson, and the surrounding areas in Michigan. Our local fence company installs a wide range of commercial dumpster gates for trash enclosures to help keep waste disposal areas secure and tidy.
A dumpster enclosure without a gate exposes the area to the public and can be quite unsightly, especially when animals and other unwanted intruders have taken advantage of the easy access to the waste. It's not exactly the most glamorous representation of your business.
If it's time to replace an old dumpster gate or install a new one for the first time, our specialists would be more than happy to offer some suggestions. We can help you figure out the appropriate dumpster gate type and style which will work best to keep the area secure and blended in with the landscape.
100% Satisfaction Guarantee
24 Hour Emergency Services
Free Estimates
High-Quality Dumpster Gates & Installation
Whether we're building dumpster gates or fencing, our customers in Rochester Hills and the surrounding areas can always depend on getting high-quality products and workmanship. Our experienced professionals will make sure your installation is done according to the building regulations which apply to your business.
We offer different materials and style options in aluminum, chain link, wooden, heavy duty steel, and more.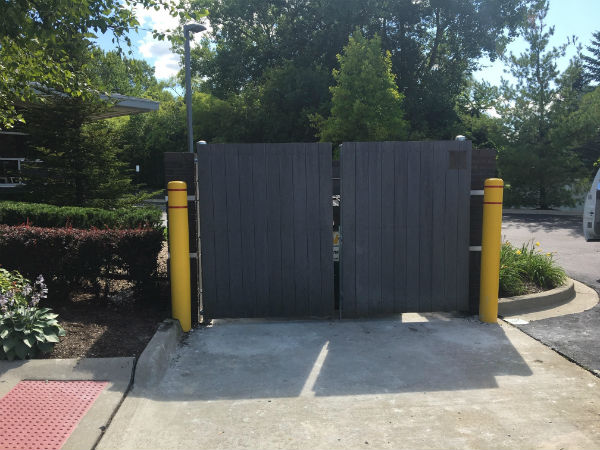 Custom Dumpster Gates
Locking Dumpster Gates
Chain Link Dumpster Gates
Aluminum Dumpster Gates
Metal Dumpster Gates
Wooden Dumpster Gates
Vinyl Dumpster Gates
Wide Dumpster Gates
Double Door Dumpster Gates
Decorative Dumpster Gates
Dumpster Gates With Privacy Slats
Vinyl Coated Chain Link Dumpster Gates
Dumpster Enclosure Gates
Sliding Dumpster Gates
Dumpster Gate Repairs Expert
Our experienced team also provides commercial dumpster gate repairs in Rochester Hills, Clawson, Sterling Heights, and other areas. Whether you're having a simple problem with a hinge or someone accidentally backed into it and mangled it, we can help you with the appropriate repair solution to get the area re-secured, presentable, and fully functional.
Don't hesitate to contact us for a free estimate! We can examine the dumpster area, assess the scope of the repair work necessary, and then discuss the details with you of what we believe the best solution will be to suit your budget and goals.
Rochester Hills Fencing Company - Dumpster Gates Image Gallery
3 Reasons To Hire A Pro For Your Fence Repair Needs
If you're like most homeowners, the idea of saving money is always appealing, and when it comes to fence repair, a DIY solution is almost always going to cost you more than just hiring a contractor. […]
Real Wood or Vinyl: Which White Picket Fence Option Is Better?
A white picket fence: Is there anything more ideally American? It's the unofficial symbol of having made it in this world, and simply having one can add that much more enjoyment to your life. If you' […]