Gate Building In Rochester Hills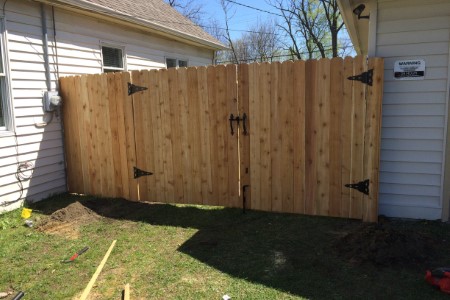 A fence without a gate is pretty useless indeed -- as is a fence with a poorly working gate. If you want to ensure that your Rochester Hills home sports a high-quality gate, you need to call KJ Wren Contracting for our gate building service.
Our experienced fence company has the expertise and the high-quality resources needed to provide a sturdy and great-looking gate. When your Ferndale home is in need of a new gate, call for our quality gate building service, and you'll enjoy excellent results in no time.
Small or Large Gates: We Do It All!
Gates come in a variety of different sizes and designs that range from small and nondescript to large and ornate. So, you certainly have your options spread out before you when it comes to your gate needs:
Single door
Double door
Wood
Chain link
Vinyl
Aluminum
Fortunately for you, it doesn't matter what kind of gate you need: We have the resources and the know-how to build any kind! Call our fencing experts today if you need any kind of gate of any size built, and we'll get the work handled quickly and dependably.
Quick, High-Quality Work from Our Rochester Hills Team
When you want to get a new gate built, you'll want to get one built quickly. Of course, that doesn't mean you'll want to settle for slapdash work. No, you'll want the results to be beautiful, durable, and long-lasting.
For that reason, you'll be more than happy with the work we provide. We pride ourselves on providing high-quality work that will yield stunning results. If you want to enjoy a beautiful gate that's guaranteed to function dependably through the years, then call for our gate building service today.
3 Reasons To Hire A Pro For Your Fence Repair Needs
If you're like most homeowners, the idea of saving money is always appealing, and when it comes to fence repair, a DIY solution is almost always going to cost you more than just hiring a contractor. […]
Real Wood or Vinyl: Which White Picket Fence Option Is Better?
A white picket fence: Is there anything more ideally American? It's the unofficial symbol of having made it in this world, and simply having one can add that much more enjoyment to your life. If you' […]